TRANSCRANIAL MAGNETIC STIMULATION
NON-INVASIVE WITH LOW SIDE-EFFECTS
TMS is an outpatient procedure that is well-tolerated for the majority of patients
FDA CLEARED FOR DEPRESSION, OCD, AND ANXIETY
TMS was FDA cleared for depression in 2008 and more recently for OCD and anxiety in depression
COVERED BY MOST PRIVATE PROVIDERS
Most insurances will provide reimbursement for TMS as an second-line treatment
At CAC we are committed to providing our patients with evidenced-based interventional psychiatry procedures as part of our continuum of integrated supports. TMS has been recommended by the American Psychiatric Association since 2010 and FDA cleared since 2008 for the treatment of major depressive disorder. In 2020 Deep TMS was also cleared for treatment of obsessive compulsive disorder, and most recently anxiety in depression. Our clinic has both the MagVenture and Brainsway TMS machines ensuring our patients the widest range of FDA approved TMS treatments in the region. Our focus is the utilization of the most effective TMS technology in psychiatric medicine for depression, anxiety, and obsessive compulsive disorder. TMS works by delivering a series of repetitive, brief and highly focused magnetic pulses, used to stimulate specific neural networks in the brain associated with the condition being treated. This stimulation and strengthening these neural pathways helps restore more balanced brain activity. By coming to the Cincinnati Anxiety Center, you can be sure that you or your loved one will receive compassionate and effective care from experts committed to helping you achieve the best possible outcome.
The Best Tech in the Region
Are You Ready? Here are the FAQs...
What is TMS?
---
TMS is a non-invasive treatment where magnetic pulses are delivered to stimulate nerve cells in the part of the brain controlling emotions, which are often are either hypo- or hyperactive in patients with mental health disorders. Targeted and repeated stimulation of these part of the brain has proven to produce an clinical effect on people suffering from depression, OCD, and anxiety. TMS is also known as rTMS (repetitive transcranial magnetic stimulation) because more than one magnetic pulse is delivered to the brain during a treatment session.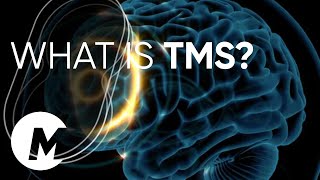 ---
Am I a candidate for TMS?
---
TMS is FDA approved for Depression, Obsessive Compulsive Disorder, and Anxiety. Insurance currently covers the treatment of major depressive disorder in patients who have failed to receive satisfactory improvement from prior antidepressant medication in the current episode. MagVenture/Brainsway TMS Therapy is available based upon Doctor approval. Your doctor will use medication dosing records and depression scores among other measures to determine whether or not you are a candidate for TMS Therapy. Other specific criteria may be dictated by ones health insurance company.
---
How long does it take?
---
MagVenture TMS Therapy is offered as Express TMS® which lasts 3 minutes or as standard TMS, lasting 19-37 minutes. Typically, one treatment is given per day, 5 times per week, over a period of 4-6 weeks. If indicated, we will also be offering the SAINT protocol for accelerated TMS for depression which consists of 10 sessions a day for 5 days for a total of 50 sessions.
---
What does TMS feel like?
---
You sit in a chair in a relaxed position. When the magnetic pulses are delivered you hear a clicking sound and feel a tapping sensation on your head. Many patients are able to watch television or read during treatment.
---
Are there any side effects to TMS therapy?
---
TMS treatment has a low side-effect burden in comparison to those typically experienced with antidepressants, such as weight gain and sexual dysfunction. TMS may, for some, cause headache or nausea, but you should be able to resume your daily activities right after treatment. Although TMS is typically well-tolerated, it is a medical procedure and any side effects experienced during or after receiving the therapy should be reported to your doctor.
---
Is TMS covered by my insurance?
---
TMS is reimbursed by most insurance providers. Their policies may, however, vary. Pre-authorization, treater requirements (MD, CMA, APRN etc.), number of drug failures, to name a few, can impact claim approvals. Always refer to your insurer's policy guides. A list of current criteria from major insurance companies. 1. The patient must be 18 years or older 2. Be diagnosed with severe major depressive disorder 3. Must have psychotherapy for at least 2 months (weekly sessions) 4. No history of seizure disorder or epilepsy 5. No magnetically-sensitive metal within 12 inches from the top of the head (Dental implants and disk replacements are OK) 6. Must have tried antidepressants (see the number below of how many by each insurance company): Aetna: 2 antidepressant medications + 1 augmentation Anthem Blue Cross: 2 antidepressant medications Beacon: 4 antidepressant medications Blue Shield (Magellan): 4 antidepressant medications Cigna: 2 antidepressant medications of 2 different classes (e.g., both can't be SSRI's) Humana:1 antidepressant medication Magellan: 4 antidepressant medications Medicare: 1 antidepressant Meritain: 4 antidepressant medications MHN: 4 antidepressant medications Optum: 4 antidepressant medications TriCare/TriWest: 1 antidepressant medication United: 4 antidepressant medications UMR: 4 antidepressant medications
---
Is TMS effective?
---
TMS research has shown very promising results especially in comparison with the success rates we have with medications. In randomized controlled trials the success rate ranges from 2⁄3 to 1⁄2 of patients receiving TMS. In open-label trials, when people know for fact that they are actually receiving the TMS therapy, the response rate is higher.
---
Is Transcranial Magnetic Stimulation Shock Therapy?
---
The answer is a resounding no. TMS is not shock therapy. There is no shock at all in TMS. Shock therapy is ECT or Electroconvulsive Therapy. In ECT, an electrical shock is delivered to the brain to induce a therapeutic brain seizure. This is done in hospital settings and under anesthesia. This is not how TMS works. TMS uses Faraday's law of induction to induce a micro-electrical current that stimulates very specific neuronal networks in the brain. This is done by using a targeted magnetic pulse without any of the side-effects of ECT.
---
If TMS treatment is so effective, why isn't it tried before medication?
---
Usually we would reserve a more expensive treatment option to be second-line treatment. That's why the initial trials for TMS (2007) included patients who failed one or more antidepressants. For this reason the FDA approved it for treatment resistant depression based on the data they had. This doesn't mean it won't work as a first-line treatment.
---
How long do TMS effects last?
---
About two out of three patients will maintain their response or remission 6-12 months after TMS. About one third could see a return of depressive symptoms. Some patients may require maintenance TMS therapy after their initial or repeated treatment course. It can keep patients from relapsing again into depression after their initial treatment. Maintenance TMS therapy could be once a week for a while then once every two weeks.
---
How much does TMS cost?
---
When paying out-of-pocket national prices range from about $10,000.00 to $12,000. At CAC we are committed to offering the best value in TMS pricing in the region because we believe this technology should be available to all who need it. Standard Service Rates *We guarantee that we will match the service rate of any provider in the Cincinnati Metropolitan Area. Standard rTMS protocol: $6000.00 Deep TMS for OCD protocol: $7000.00
Standard Theta Burst rTMS protocol: $4000.00
Accelerated TMS protocol: $5000.00
---
---